CH. Dakota "Max" Standard Schnauzer pepper and salt
Born: 22/01/2004
Father: Multi CH. Maxandr Elvi's Gelios
Mother: Bécassine du Couziau
Breeder: Florence Van Damme (BE)
Owner: D. Rouchet (BE)
Belgian Champion
Dutch Champion
BOB Belgian Schnauzer Special (KBSPC) 2006
Dutch Club Champion 2008
BOB Dutch Schnauzer Special (NSC) 2008
Multiple CAC, CACIB and BOB
For more info and complete results, see:
http://users.skynet.be/schnauzerdakota
Contact:
david.rouchet@skynet.be
[img]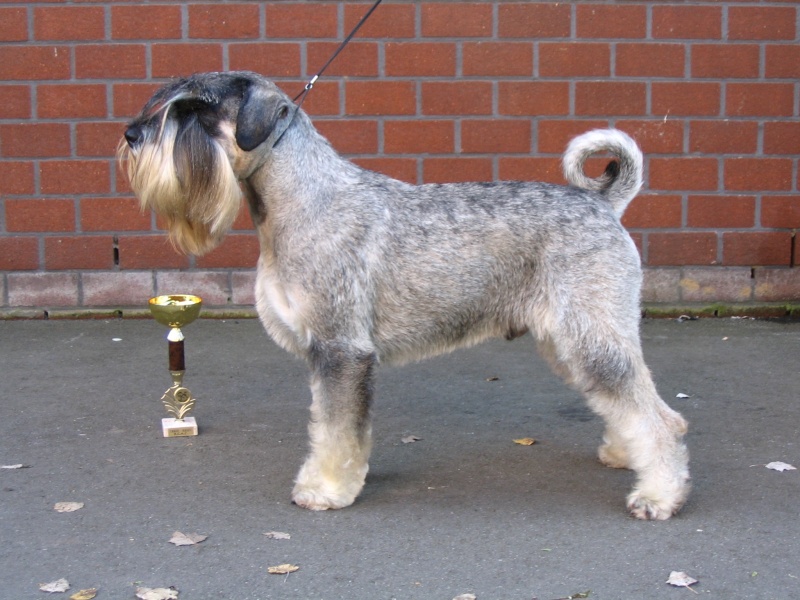 [/img]

Mick





Profit finished her championship with four majors including two specialty majors in Indianapolis and Atlanta. She finished her title with a specialty supported major in Murfreesboro. Profit is currently being lightly specialed in the mid-west with a few breed wins under her belt already.
Pedigree for Ch. Dakota's Book Of Magical Theory
Sire
Ch. Dakota Wingardium Leviosa Sire
Ch. Dakota's Crossfire Sire
BIS/BISS Am/Can Ch. Prince Harts Sire
BIS/BISS Ch. Tuckaway Augusta
Dam
Am/Can Ch. Dalmyst Harts Afire
Dam
Ch. Dakota's Telling Secrets Sire
Ch. Snow Hill's Rapscallion
Dam
BIS/BISS Ch. Dakota's Victoria's Secret
Dam
Ch. Dakota All That N Then Some (L) Sire
Ch. Aberdeen's Sawyer Brown(L) Sire
Ch. Madurhason's Yazoo (L)
Dam
Ch. Aberdeen's Measure For Measure
Dam
Ch. Duneland's Dakota Detente Sire
Ch. Madurhason's In Th' Catbird Seat
Dam
Ch. Duneland's Liz-Ann Newsham
Dam
Ch. Aberdeen's Twilight Time Sire
Ch. Aberdeen's Back To The Future (L) Sire
Ch. Aberdeen's Sawyer Brown (L) Sire
Ch. Madurhason's Yazoo (L)
Dam
Ch. Aberdeen's Measure For Measure
Dam
Ch. Spotsalot In The Nick Of Time (L) Sire
Ch. Madurhason's Aberdeen (L)
Dam
Spotsalot Mita's Copy
Dam
Ch. Hi-Flyer's Salem Of Aberdeen Sire
Ch. Roadpartner's Billie Holiday Sire
BIS/BISS Ch. Tuckaway Augusta
Dam
Ch. Countryroad Racy Roadpartner
Dam
Ch. Aberdeen's Magic Flute Sire
Ch. Aberdeen Madurhason Caliban
Dam
Ch. Aberdeen Madurhason Sonata
Thanks
free software download
download software
free download

---
Permissions in this forum:
You
cannot
reply to topics in this forum